Sugarcane juice is the liquid extracted from pressed sugarcane. People consume it as a beverage in many places, especially where they commercially grow sugarcane. Sugarcane juice is obtained by crushing peeled sugar cane in a mill and is one of the main precursors of rum.
The juice of the sugarcane, when extracted, contains only fifteen per cent raw sugars – lesser than some of your regular fruit juices or smoothies. The juice also contains vital minerals such as calcium, copper, magnesium, manganese, zinc, iron and potassium. It is a rich source of Vitamin A, B1, B2, B3 and C.
Additionally, drinking a glass of sugarcane juice has amazing health benefits and is packed with vital nutrients that our body needs. It can strengthen the bone, boost the immune system, enhance digestion and relieve stress.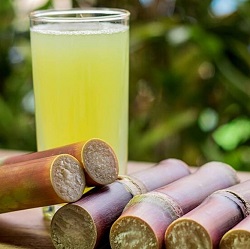 benefits
The juice contains zero fat, cholesterol, fibre and protein. This is the healthiest and the most nutritious drink one can think of consuming.
Sugarcane is an instant source of energy. Sugarcane not only energises your body but also protects you from dehydration, which is frequent during hot days. The body easily absorbs the juice and increases your sugar levels.
It is the healthiest and the most natural way of consuming nutrients. It is also the best way to treatment for liver-related ailments like jaundice. Being alkaline in nature, sugarcane juice helps in maintaining electrolyte balance.
Moreover it helps in putting up a tough fight against cancer. It is a rich source of calcium, magnesium, potassium, iron and manganese. All these make sugarcane alkaline in nature. With the help of these rich sources, the body helps in battling cancerous cells.