Pineapple juice is a liquid made from pressing the natural liquid from the pulp of the pineapple. In manufacturing, pineapple juice is typically canned. It is used as a single or mixed juice beverage, and for smoothies, cocktails, culinary flavor, and as a meat tenderizer.
Pineapple is a tropical fruit and people consume it fresh or in a processed form. Pineapple juice tastes best when chilled and it is an ideal fruit drink to consume during hot summer days. The fresh juice contains about 75% of vitamin C. It acts as a natural antioxidant. It promotes cell growth and tissue repair. The juice of pineapple also contains vitamin B6, which helps our body to regulate blood sugar and also promote a healthy immune system.
Pineapple is a fat-free food rich in fiber and vitamins. Fiber is especially important to people with diabetes as it can help to lower blood sugar, reduce cholesterol, and regulate bowels. A single, one-cup serving of fresh pineapple has an impressive 2.2 grams of fiber with only 78 calories.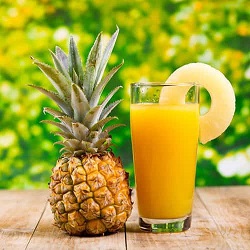 method of preparation
Peel the skin and cut into small pieces.
Blend the pineapple pieces, sugar and required amount of water in a blender.
Then filter it to obtain the clear juice.
Transfer the juice into glass and add some crushed ice.
Serve chilled.
People consume processed pineapples worldwide and processing industries are using new technologies to retain the nutritional quality of the pineapple fruit. This is to meet the demand of consumers who want healthy, nutritious and natural products.