Pineapple is one of the popular fruits and the majority of people like it. irrespective of their age group. Pineapple is an important food. People can eat fresh pineapple or  in a processed form (pineapple jam). It composes of nutrients which are good for human health.
Pineapple Jam is made from mature pineapple fruit which is boiled with sugar and other ingredients. For preparing the jam, the selection of fruit is very important. The pineapple must be perfectly ripe. The young fruit contains acids which may affect the jam quality. It is unsuitable if it contains large amount of water and unattractive color.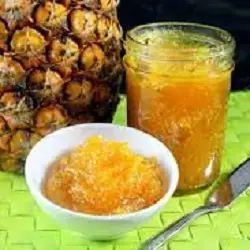 Uses
Pineapple Jam is a nutritious spread on various foods. Additionally we can eat jam as a spread on toast and as a filling for bread, buns, biscuits, cakes, and other pastries. One can also use pineapple jam to make ice creams, yoghurts, milkshakes and cocktails.
MethoD of cooking
Cook the pineapple pulp with water on a low fire.
Stir it continuously with a wooden ladle.
While it boils, slowly add sugar to it. Boil it well by stirring continuously.
Add pectin powder and stir continuously.
When the jam is done, add citric acid, lemon yellow color and pineapple essence to it.
Remove from fire and pour into a bottle. When the jam cools, close the mouth of the bottle.
Pour some jam on a dry plate in order to test the formation of the jam. Allow it to cool and tilt the plate. If the jam is ready, it will fall in flakes.