pepper plants(plantule ti piment)
Pepper plants come originally from America.
Buy a tray of 200 pepper seedlings at Agromoris at Rs 400. Cultivate your seedlings to get fresh pepper plants in your own garden and/or fields. The hindi name of pepper is "Mirch".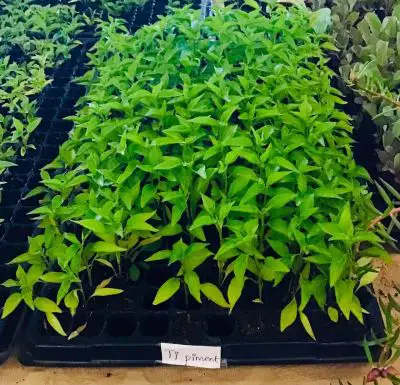 Types Of peppers
1. Bell Peppers(Poivron)
     They have a sweet taste and they have different colors such as red, green, orange and yellow.
2.Banana Peppers(Piments Bananes)
    Banana peppers have a sweet taste and they are yellow in color.
3.Cuban Peppers(Piment Cubain)
      They have a sweet taste. They are used in several dishes to add a different flavor.
4. Pasilla Peppers(Piment Poblano)
    Pasilla peppers are the dried form of a type of pepper known as chilaca peppers.
5.Fresno Peppers(Poivron Farcis/ Piment Farcis)
   They have the taste of a bit spicier  and sweeter. They are glossy, firm, and medium thickness in flesh and they can be used in Latin dishes   such as          stews, soups, dips.
6. Yellow Chile Peppers(Piment Jaune)
    They have thick flesh, bright yellow in color, smooth texture, and shiny surface.
7. Habanero Peppers(Piment Habanero)
    They're one of the hottest widely available peppers.
8. Shishito Peppers (Piment Carri)
     Shishito peppers have a taste of slightly sweet flavor and they are green in color.
9.Thai Chiles Peppers( Ti Piment Rouge)
    Thai Chiles are hot and spicy peppers and they are red in color. Thai peppers add lots of heat to sauces, fish and curries.
10. Serranos Peppers(Piment Vert)
      Serranos peppers are spicy peppers and they are green in color. They are skinner and long in shape.
11.Arbol Peppers(Piment Sec)
      Arbol peppers are small, skinny chilies that are very popular in Mexican cuisine. They taste earthy and nutty and they are red in color.