Cucumber Seedlings 

(Plantules concombre)
Buy your cucumber seedlings at Agromoris at the best price. Cultivate your seedlings to get fresh and juicy cucumbers in your own garden and/or fields.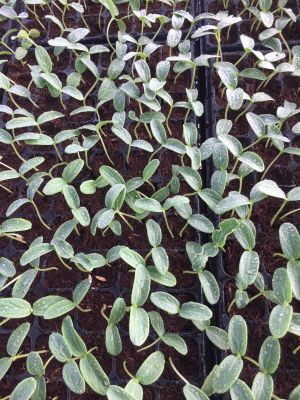 A tray of of 225-250 plants is Rs 300.
Below are some steps how you can plant and cultivate Cucumber seedlings:
A spot full of sunlight is needed. This is because cucumber need lots of light and warmth to grow well.
The soil should be fertile. Before planting the seedlings, it is very important to add aged manure and compost. This will help to enrich the soil and also nutrients are released.
It is very important to water the plants regularly in the morning and early afternoon. Make sure not to wet the leaves all the time as this may cause plants' disease and damage the plants.
You can either use manure/compost from time to time for the plants to receive the nutrients or fertilizer named 5-10-10. The fertilizer must be used one week after the plant started blooming and continue to use every three weeks. This will give the plants the necessary nutrients to mature and grow.
However, pesticides also are needed to destroy fungus, prevent virus from destroying the plants and killing all the insects.
It takes 50 – 70 days for cucumbers to be ready and planters can finally harvest. Make sure not to let cucumbers to become too large as they will be bitter in taste.
Finally, you can use the cucumbers to make a salad or use in several dishes.
Follow all the steps mentioned above and water your plants regularly, you will be the winner of your own actions and the reward will be harvesting. They can be for own use, sharing or selling.