Strawberry is a fruit that is loved by anyone. We have all sorts of strawberry with preservative methods nowadays. And one os the method is the IQF Strawberry Dices/ Fraise en cubes. Sugar turns into starch as soon as strawberries (fraise) are picked, so their flavor is far superior to what you would find in a grocery store.  Another beneficial factor is that strawberries (fraise) grow very easily in almost all climates.
Here are some handy, healthful tips for incorporating them into your diet:
1. Dice them and add them to your chicken salad.
2. Make your own fruit cocktail with fresh fruit. Include grapes, pineapple, sliced peaches, and strawberries (fraise). Drizzle a small amount of honey on top of the fruit mixture for extra sweetness if wanted.
3. Add a sliced strawberry (fraise) to plain Greek yogurt with a drizzle of agave nectar and sliced almonds.
4. Top whole-grain waffles, pancakes, or oatmeal with fresh strawberries (fraise), or fold them into muffins and sweetbreads. You can also blend strawberries (fraise) in a food processor with a little water and use it as a fresh syrup to top desserts or breakfast foods.
5. Mix cut the fruits into a spinach salad with walnuts and goat's cheese.
6. Toast a whole-grain bagel and top with light cream cheese and strawberry (fraise).
7. Put some frozen, unsweetened strawberries (fraise) into a blender with a banana, low-fat milk, and ice for a quick and easy strawberry (fraise) and banana smoothie.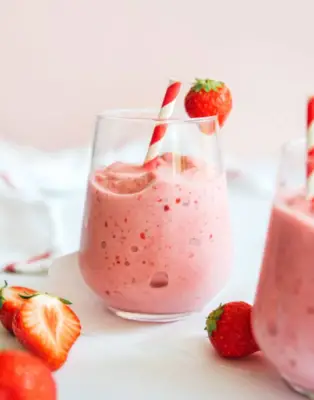 Benefits : 
1. Preventing heart diseases 
As a result of their high polyphenol content, strawberries might help prevent heart disease.
Anthocyanin present in strawberries (fraise) may lower the risk of myocardial infarction. Additionally, the flavonoid quercetin in strawberries may also reduce the risk of atherosclerosis. They are also high in fiber and potassium, which are good for your heart.
2. Preventing stroke
The antioxidants like quercetin, kaempferol, and anthocyanin present in the fruit help to reduce the risk of stroke.
3. Cancer 
The powerful antioxidants in strawberries (fraise) may work against free radicals which inhibit tumor growth and decrease inflammation in the body. While no fruit acts as a direct treatment for cancer, strawberries (fraise), and similar fruits might help reduce the risk of some people developing the disease.
4. Blood pressure
Due to their high potassium content, strawberries (fraise) might provide benefits for people who have a raised risk of high blood pressure by helping to offset the effects of sodium in the body. Low potassium intake is just as important a risk factor for high blood pressure as high sodium intake.
5. Constipation 
Eating foods such as strawberries (fraise), grapes, watermelon, and cantaloupe that are high in water content and fiber can help hydrate the body and maintain regular bowel movements. Fiber is essential for minimizing constipation and adding bulk to the stool.
6. Diabetes 
The taxonomy of the fruit shows that they are healthy for diabetics. Moreover, the substantial fiber content of the berries helps maintain blood sugar stability by preventing extreme highs and lows.
Harvesting :
– Fruit is typically ready for harvesting 4-6 weeks after blossoming.
– Harvest only fully red (ripe) berries, and pick every three days.
– Cut by the stem; do not pull the berry or you could damage the plant.
– For June-bearer strawberries (fraise), the harvest will last up to 3 weeks. You should have an abundance of berries, depending on the variety.
storing of IQF Strawberry dices/ fraise en cubes :
Store unwashed berries in the refrigerator for 3–5 days.
They can be frozen whole for about 2 months.