A Fork is a gardening tool which consists of a handle and a square-shouldered head featuring four short tiles. It is used for releasing, lifting and turning over soil in gardening and farming.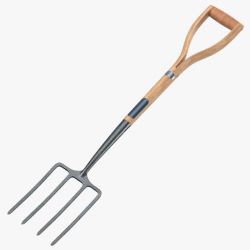 Product Description
A fork has two main parts – the head and the shaft. Both vary in terms of size, material and configuration. The head of this garden tool consists of the tines and a socket. The tines are the projecting spikes or prongs used to spear, hook, move and generally cut through soils and other organic material. The tines meet the shaft through a tube of metal called a socket. There are different socket connections, which can affect the quality of the fork.
Uses of a Fork
The primary use of this device is to specifically lift and loosen soil from the ground. It functions sort of like a shovel or a spade, hence the name garden spading fork. The thicker and closer prongs of this garden tool also ensure that it can carry a considerable amount of soil.
Furthermore, this tool is used to lift root crops like potatoes or yams from the ground. Some other people also use this garden tool for many other purposes such as to rake smaller rocks from the soil and to dig up a hole if there is no shovel or spade.
Maintenance of a fork
First remove any soil or debris from your fork.  Use a garden hose over a drain to wash it down. For stubborn, caked on mud, use a wire brush or coarse steel wool. Allow to dry completely to prevent rusting.
Store your garden tool in a secure, dry environment and try not to leave it outside.
Are you looking for a fork in Mauritius? Please check our website Agromoris for more agricultural tools at the best price and quality.