Taro leaves (brede songe) are heart-shaped leaves of the taro plant (Colocasia esculenta), grown in tropical regions. The leaf of the taro plant, in addition to is starchy, edible and are a common ingredient in many different cuisines.
USES :
The leaf can be added to soups, stews and casseroles. It is important to remember that the leaves are toxic when raw. The taro greens contains calcium oxalate which is a natural pesticide in many plants. Eating raw or half-cooked taro leaves (brede songe) can cause itchy mouth and throat.
HEALTH BENEFITS OF CONSUMING TARO LEAVES:
1. GOOD SOURCE OF VITAMIN
They are a great source of vitamin C and polyphenols.
2. IMPPROVE GUT HEALTH
Gut bacteria digest fibers in the leaves. Short-chain fatty acids are created to nurture the cells around intestines to keep them strong and healthy.
3. BOOST HEART HEALTH
Consuming cooked taro leaves (brede songe) may boost heart health and promote overall well-being. It also provides complex carbs, which lowers cholesterol.
4. RICH IN FIBRE
They are high fiber and low calorie content making them a great food to consume.
MAURITIAN STEWED TARO LEAVES (brede songe) RECIPE: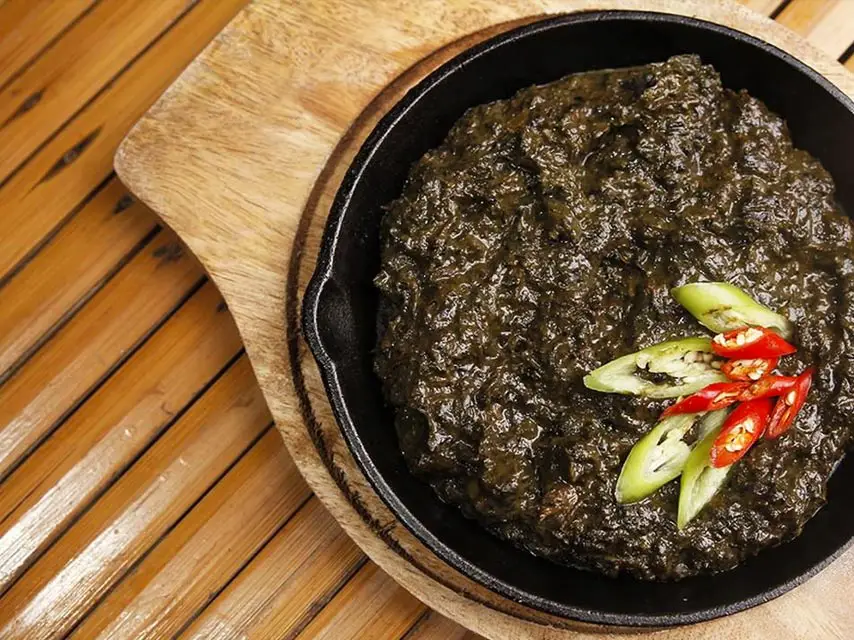 INGREDIANTS:
300g/ 10-12 taro leaves (brede songe)
1 small onion
1-2 cloves of finely chopped garlic
1 tablespoon of crushed garlic
3/4 teaspoon cumin
1/4 cup chopped tomatoes
1/2 teaspoon of diluted tamarind paste
1 tablespoon oil
salt
HOW TO COOK THE LEAVES:
1. In a large pan on medium-high heat, add one tablespoon of cooking oil.
2. Add in  minced ginger, chopped onions and garlic.
3. Stir for about 1 minute.
4. Add the cumin and a little water, if required..
5. Next add in the stems, little water and then cover.
7. Let  cook for about 10 minutes.
8. Add in the leaves and just a little salt to help the greens cook.
9. Add a little water, stir and then cover.
10. Lower the heat to medium and cook for about 45 minutes.
11. Stir occasionally and add water as needed so that the greens do not
stick to the pan till leaves turn to deep green.
13. Add the chopped tomatoes and diluted tamarind paste.
14. Stir, then cover and let cook for another 10 minutes.
16. Its ready, enjoy the smooth creamy silky texture greens.