Dicarzol 20SP is very potent and well known insecticide based on the A.I
It is a non-systemic insecticide. Also, it is a contact and stomach poison.
Formetanate hydro-Chloride. This carbonate insecticide (Formanidine group) has broad spectrum activity with excellent effects on, sucking insect pests such as Thrips, Mites and chewing type of insect pests like Budworms and Fruitworms.
Dicarzol 20Sp is currently supplied by Gowan Comèrcio Internacional e Servicos Limitada heardquarted in Portugal.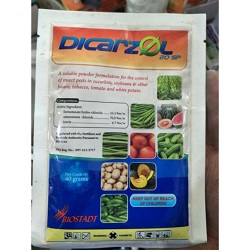 Mode of action
Dicarzol has two distinct modes of action on thrips and some insects pests
Inhibits enzyme mono-anime oxidase
Cholinesterase inhibitor
Dicarzol is Non-systemic insecticide
Dicarzol is contact and stomach poison
Spectrum
Excellent product for Thrips control; it is also effective on Mites, Hemioterans (Aphids) and lepidopterans (Budweoorms, Fruitworms).
Advantages of Soluble Powder (SP)
Dicarzol Soluble Powder is readily soluble in water, hence once applied, spreads uniformly on the leaf/plant surface.
The spray solution of thus SP formulation ensures better contact of insect pests with the active ingredient evenly spread onto the leaf surface.
Effective control by contact and stomach action due to the insect pest feeding on the uniformly spread active ingredient.
The SP formulation gives better chances of Insect feeding, resulting mortality by stomach action.
No dust or fumes while mixing, hence applicator friendly.
No clumps of formation or wastage in mixing or application.