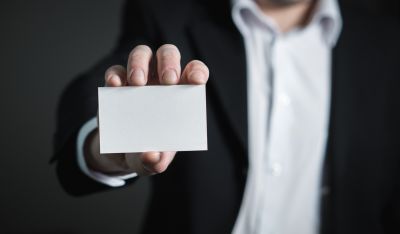 Business card is a small card identifying a person in connection with his business, given to client/potential customer. It should convey overall image of the business and should measure just 2 inches by 3 inches.
Tips how to choose a perfect card:
Use logo as the basis. Make it the largest element on the card.
Keep it simple. Don't cram too much information on the card.
Do include the essentials–name, title, company name, address, phone and fax numbers and e-mail address–and make sure the name and business name are immediately identifiable.
Make sure the typeface is easily readable.
Stick to one or two colors.
Make sure it's easy to read
Once ready, make the most of them:
Always give people more than one card (so they can give it to others).
Include the card in all your correspondence.
Carry cards with you at all times, in a card case so they're clean and neat.
Do people still use business cards?
The answer is yes. While many products are losing relevance, business cards aren't and still going strong day by day. It was, is and will remain the most important and cost-effective tool that a business has. It helps people remember the business, for example; after they return from a meeting and gives them a way to contact the business in the future for any work/project.
Mistakes to avoid:
Using poor quality card
Not providing a unique selling proposition.
Using too big card
Print that is too small and not well visible.
Not including email address and business website.
Inadequate/poor use of color.