ORGANIC AGRICULTURE: FROM FARM TO plate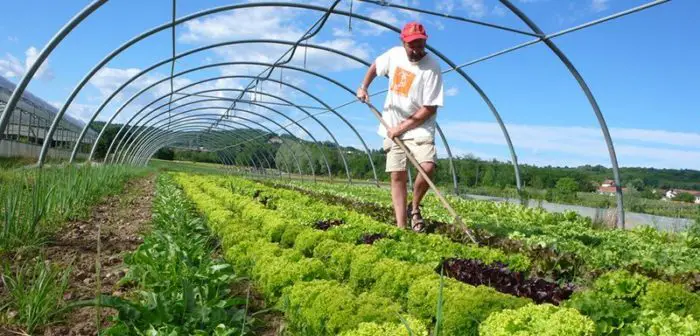 Because organic farming provides healthy and quality food, without the use of pesticides or chemical fertilizers, and to allow direct access to those who prefer organic produce, Géraldine D ' Unienville, founded in Mauritius for a few years, over a year ago created an original initiative called Le Vélo Vert. The concept offers its members, on a weekly basis, baskets filled with produce from certified organic farms.


Velo Vert's goals:
supporting the chemical-free horticulture market, promoting more fertile soils and sustainable agriculture, and providing consumers with quality products. By providing individual baskets of organic vegetables, Le Vélo Vert also creates a direct link between farms – or other organic producers – and consumers. A service that allows them to save time and benefit from healthy food every week, while helping to save the environment. By creating this concept inspired by AMAP (Association for the Maintenance of Agri-Farmers) in France, Géraldine D'Unienville established an innovative method of distribution, in the form of baskets delivered to the door, by That ensures the freshness of the product.
If she's particularly sensitive to organic farming and healthy food, it's because the young girl – born in Belgium and later moved with her family to Aquitaine, France – grew up in a family consumption and marketing of organic food. "I come from a family where we eat healthy and were involved in the establishment of organic shops in Belgium in the 1970s," says Géraldine D'Unienville. When she married a Mauritian, she tried to continue to adhere to a healthy diet and was surprised to find that "the island (Mauritius) is one of the places where chemical products are consumed per square meter. largest farming".
However, Géraldine D'Unienville hopes to find a solution to the problem when she gives birth. She said: "Without a garden or a vegetable plot, it all started with Charlize's first vegetable puree, when she was 7 months old, whom I slow cooked because I wanted something. other than vegetables full of chemical fertilizers and pesticides," she said. In February 2012, she met Meeta Bernasconi, the owner of the Agribio agricultural farm in Bambou.
"Very quickly, I saw a need all around me, people craving really healthy products, even if that meant having a few worms crawling through vegetables, or the size and number of vegetables. unpredictable quantity before harvest. It is quality that counts. Also, in my first orders, I took as many baskets as I needed to help another young mother in the neighborhood, a bedridden disabled woman, or even a friend who worked late. My car was packed, and my husband laughed when he saw me driving around the neighborhood on my way home from work late at night. This is how the friendly group was born. It is still very much alive today, with about 150 active members taking their time taking orders, creating carts, communicating weekly, and consuming products!
Since then, the concept has attracted more than a hundred people ordering seasonal produce harvested from Bamous each week:
about forty products, vegetables and fruits including eggplant, fennel, beetroot, Swiss chard, fennel, Nancy radish, pastry squash, honeysuckle, red, white or black beet, vegetables arugula, savory, figs, mango and salads (escarole, romaine, batavia, lettuce, etc.)
"It is important to make healthy products accessible to all who want them. And to make sure those who can't get to the farms can see these deliciously packed baskets moving towards them. Géraldine D'Unienville adds: Le Vélo Vert uses prices at the farm gate and adds a small amount of "Vroom" gasoline for delivery.
Four times a week, Le Vélo Vert delivers 25 to 30 baskets over 60 to 150 kilometers. Mondays in Pointe-d'Esny, Tuesdays in Moka, Curepipe, Rose-Hill, Quatre-Bornes and Beau-Bassin, Wednesdays in Tamarin and Thursdays in Port-Louis, Grand-Baie and Flacq. "The baskets are sorted by seasonal products. We will soon expand to offer other organic products, such as honey from the Wild South and chicken from the Luchon Valley," she explains.
So far, many growers are participating in this weekly challenge. Like the agricultural farm Agribio, based in Bambou, which Weekend visited recently. Agribio, which a few weeks ago received the certification label "Bio", awarded by the international organization Ecocert, markets its products in hotels and delivers baskets via Vélo Vert. At the farm, while the women were weeding the plots of land along the new road leading to La Ferme, and others were washing the vegetables they had just picked and filling different baskets, Meeta Bernasconi references Customer orders delivered by Le Vélo Vert and composing baskets will be distributed. Meeta Bernasconi is a former nurse who quit her job to devote herself to her bamboo farm with her husband, Daniel, an agronomist. The couple cultivates on three and a half acres of bare land, after deducting roads and infrastructure.
"There are several types of baskets:
The small one costs Rs 300, the basket designed for a family is Rs 500 and the biggest one is Rs 800," explains Meeta Bernasconi, who details the composition of these baskets:
"Here is a possible example for Rs 300:
600 g dried pumpkin + 300 g green beans (or zucchini, or carrots), leeks, Batavia or Mesclun salad (the "Mesclun" salad is made with green oak, red oak, Lollo rossa, arugula, curly leaves, parsley petals and parsley petals). The family basket can be garnished with 100 g of simple flat leaf parsley, 800 g of carrots, long zucchini, 800 g of pumpkin, 300 g of chickpeas and mesclun salad. Customers can also choose one sucrine, 1 kg eggplant, two romaine leaves, two beets and 1 kg white radish. A large basket includes 150 g of flat leaf parsley, beets, 500 g of eggplant, 1 kg of carrots, zucchini, 1.5 kg of pumpkin or zucchini, 500 g of green beans, 300 g of Mesclun, three leek. Customers can add more lettuce during the weeks we don't have Mesclun or choose to add some carrots or turnips. We try to change the content. »
For Daniel Bernasconi, "the concept of Vélo Vert is very practical for the consumer, because there is a relationship between the customer and the producer". While his wife took care of arranging the orders and the composition of the baskets in the field, he took care of the farming logbook, batching, and crop rotation. Daniel Bernasconi explains that in organic farming, fertilizing is based on the addition of organic matter or a plant repellent. "In organic farming, no fertilizers, chemical pesticides or GMOs (genetically modified organisms) are used. We use insect repellent plants like basil, cotomili and rosemary. "Ladybugs are also very helpful in deterring pesky pests as they feed on their larvae," he said.
This field is increasingly attracting more and more consumers looking for quality products in the world, and the Bernasconi couple want to increase production. "We want to expand production to 12 acres for export." But one of the problems Agribio bosses are concerned about is the lack of farm labor. "We are in dire need of manpower. In our field, we employ six women full time. The rest is provided to us by contractors. And if we expand production to 6 acres, we will have to import labor," explains Daniel Bernasconi.
0