Source article published on October 17, 2023
Price fluctuations in the agricultural market have prompted Temple Rhodes from XtremeAg to consider the possibility of replacing his winter wheat acres this upcoming fall.
1.Temple Rhodes, a fifth-generation farmer in Centreville, Maryl,
Operates Chestnut Manor Farms. His farming operation covers 3,000 acres of soybeans, 1,500 acres of corn, and 1,500 acres of wheat, focusing on commodity crops. In addition to farming, Temple's family business also includes a full-scale hunting operation.
In recent weeks, the harvest has been progressing well for Temple Rhodes. Corn and early soybeans are nearing completion, with early soybean yields slightly above average. It's noteworthy that the corn yields have turned out better than expected, despite earlier concerns about chemical damage to the corn fields. The application of foliar fertilizers has contributed to the crop's remarkable recovery. This demonstrates the resilience and adaptability of modern farming practices, which can lead to positive outcomes even in the face of challenges. Currently, we have approximately 500 acres of irrigated corn left to harvest. After we finish with the corn, our focus will shift to the early soybeans. At the moment, one combine is already at work on the early soybeans.
In addition to the harvest, we've been planting wheat for the past two weeks. Due to the low price of wheat, I'm planning to reduce the wheat acreage by about 30% compared to our usual planting. The acres we save from wheat will be used for planting milo next spring. It's been a long journey, and everyone is feeling the strain, but we're making progress and getting the job done.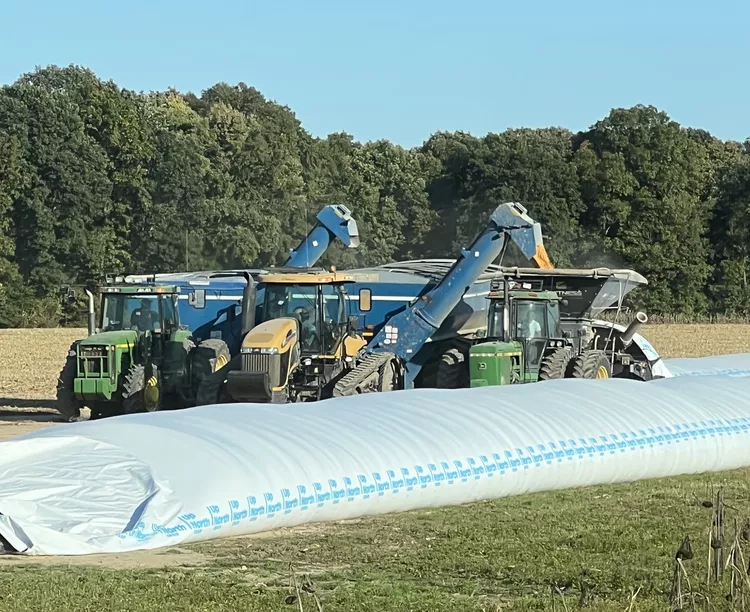 2.Johnny Verell is a third-generation farmer in Jackson, Tennessee,
Grows corn, soybeans, and wheat on his farm in western Tennessee.Currently, Johnny's farm is busy harvesting double crop soybeans, which are yielding about average for their region. The soybean crop faced challenges due to late-season rains, but overall, things are progressing well. In about a week, they'll finish harvesting the soybeans and begin the corn harvest.
They're also in the midst of planting wheat but are desperately in need of rain to support the wheat crop, as it's exceptionally dry. Despite the dry conditions, they are achieving decent results. Fortunately, the dry weather and lack of morning dew have been beneficial for their harvest, allowing them to start early in the mornings. Additionally, improved market prices are on the horizon, which is a positive development for their farming operation.
3.Lee Lubbers, based in Gregory, South Dakota,
Has a rich farming background and operates a substantial farming operation encompassing over 17,000 acres of dryland soybeans, corn, and wheat. He places a strong emphasis on continuous learning and striving to build a legacy that the next generation can be proud of.
Currently, they're transitioning into the cool fall mornings, a time Lee enjoys, as it signifies harvest season. They've been actively harvesting soybeans, which, despite the drought, weren't as early as anticipated. Due to the lack of moisture and varying soil types, soybean sizes are inconsistent, but they are adapting their combine settings for efficient thrashing. Dust has been a challenge, but better-yielding beans with fewer impurities have held up well.
They're also sowing winter wheat and need to time it precisely to avoid seed slot issues. A significant storm system has brought much-needed rain, but also cooler temperatures and strong winds, testing late-season corn stalks. They're over 90% done with soybean harvesting, planning to finish with their custom cutter and prepare for the corn harvest.