Source Article published on September 26, 2023
Discover the latest updates on Basic Food Items Price in Mauritius as of September 26, 2023. While milk prices remain unchanged, there's good news with lower table oil prices. However, we'll delve into the challenges of rice and bean shortages, along with potential price increases in the coming weeks and months, impacting basic food items price in Mauritius."
Rice: Shortage in Some Stores
Apart from the rice that is rationed, there is a small shortage of other types of rice in the market. "We are not getting as much rice as usual," says Uttam Sumaroo, the Secretary-General of Masters Express. Anand Ajoodha, the director of Funny Traders Co. Ltd, agrees. He explains that there is a delay in shipments because of problems with transferring goods between ships. This is because we only have two shipping companies, MSC and Maersk, serving us. Shipments that should have arrived last week are still on their way, causing a shortage. However, things should go back to normal by the end of the month. Anand Ajoodha says, "The ships will arrive around September 29/30 or even on October 1st and 2nd." In other big stores, the main problem is the shortage of rationed rice. "The shortage of rationed rice is ongoing. In the best cases, we receive only 5% of the
rice exports, to make sure they have enough for their own people)," he says. Girish Purmanund, Managing Director of Kalité Distribution Ltd, agrees. "With the restrictions in India and the changing climate affecting crops more and more, the prices of all types of rice should start going up by the end of September or early October. We should be ready for at least a 10% increase," he says. Uttam Sumaroo adds that several suppliers have already said they will increase rice prices a little in the coming months.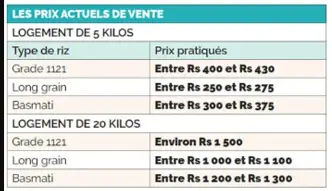 Beans and Lentils: A 10% to 15% Increase Possible
Beans and lentils have become cheaper in recent months, according to Mohammad Iqbal Hoosseny. For example, large peas, red beans, and small pea lentils have all dropped by 15% because it costs less to ship them. "The new crop will be ready in November and December. Prices will likely go up, especially because climate change is affecting crops. It's possible prices will increase before the end of the year," says Jayen Veerapen, the director of J.M.Veerapen.
Mohammad Iqbal Hoosseny says the prices of black lentils might go up by 10% because prices are higher worldwide. Girish Purmanund says gram lentils and small pea lentils from Australia will cost 15% more by late October or early November.
orders. For other types of rice, we get the quantity we need," explains Assad Peerbux, the Manager at Intermart in Beau-Bassin.
A Price Increase is Possible
While some importers believe that rice prices will stay the same for now, others think prices might go up. Mohammad Iqbal Hoosseny, the director of East Grocery (Best Foods Entreprise), says he's watching the situation closely. "We might see a small price increase depending on what's happening in India (Editor's note: On July 21st, India decided to stop exporting non-basmati white rice, which is about a quarter of their usual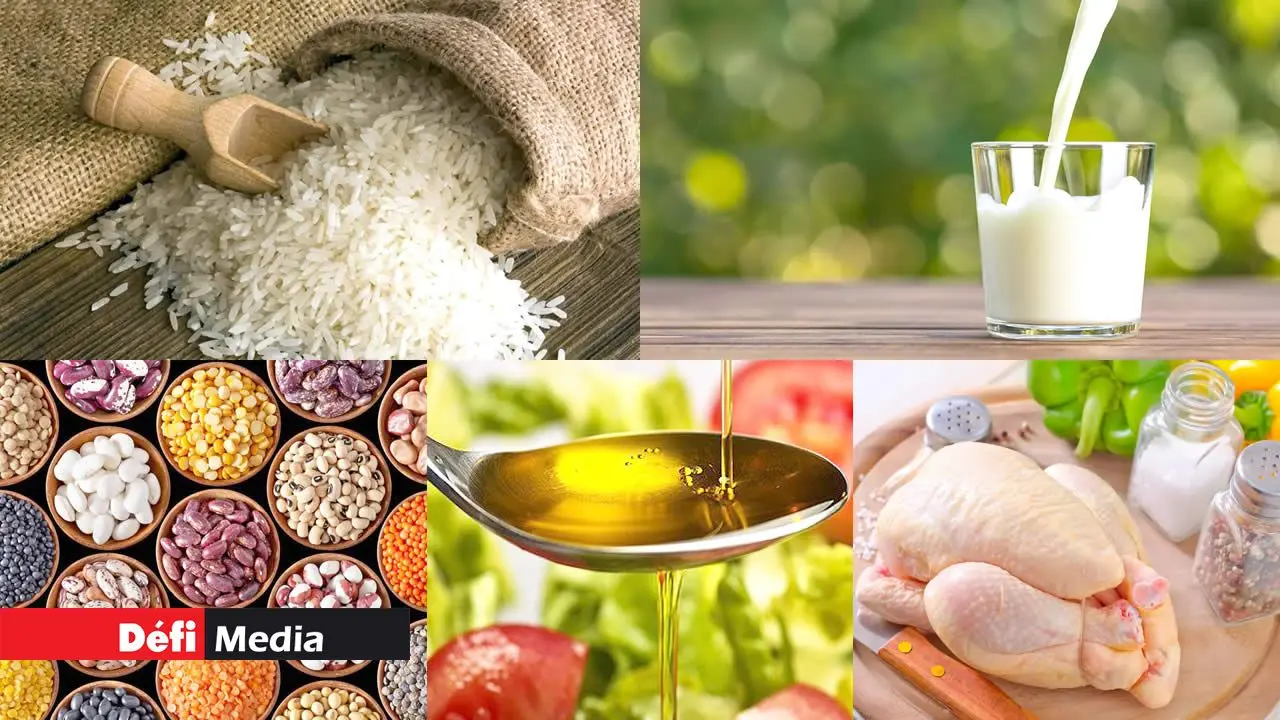 Milk Stays the Same
In stores, milk prices remain steady, and there are no problems with supply.
Current Prices
Between Rs 225 and Rs 261 per kilogram

Oil: Prices Go Down
Oil prices recently went down by about Rs 5 to Rs 6 for some brands. "There's a lot of competition for this product," says Uttam Sumaroo. Assad Peerbux adds that the cheapest oil now costs Rs 68.95, compared to about Rs 80 a month and a half ago.
Current Prices
Between Rs 69 and Rs 79 per liter
Fresh Chicken and Fish: More Expensive
Fresh chicken recently became Rs 6 more expensive per kilogram. We should expect another increase before the end of the year, especially because some materials cost more, warns Imran Nauzeer, a chicken seller at the Curepipe market. As for fresh fish, it now costs Rs 10 to Rs 15 more per kilogram, impacting basic food items price in Mauritius. "We're missing big fish like tuna and swordfish on the market. This should make prices go up."