Source Article published on October 14, 2023
Agri-food Industry Leaders Unite for Innovative Solutions at Agricultural Science Exchange Forum
Minister Hurdoyal Joins the Launch of the Second Edition of the Agricultural Science Exchange Forum.
The Minister of Agro Industry and Food Security, Mr. Teeruthraj Hurdoyal, presided over the opening of the second edition of the Agricultural Science Exchange Forum (ASEF 2). The event was held on October 12 to 13 and had the theme "Transforming Agri-food Systems through Research and Innovation for Resilience". Furthermore, in attendance were Professor Bahorun, who serves as the Executive Director of the Mauritius Research and Innovation Council (MRIC), Mrs. Micheline Seenevassen Pillay, who is the Acting Chief Executive of the Food and Agriculture Research and Extension Institute (FAREI), and various other distinguished individuals. Minister Hurdoyal stated in his remarks that the Forum is a suitable venue for advancing sustainability, flexibility, and resilience in the industry via cooperation and information sharing as well as the use of cutting-edge technology to help define the sector's future.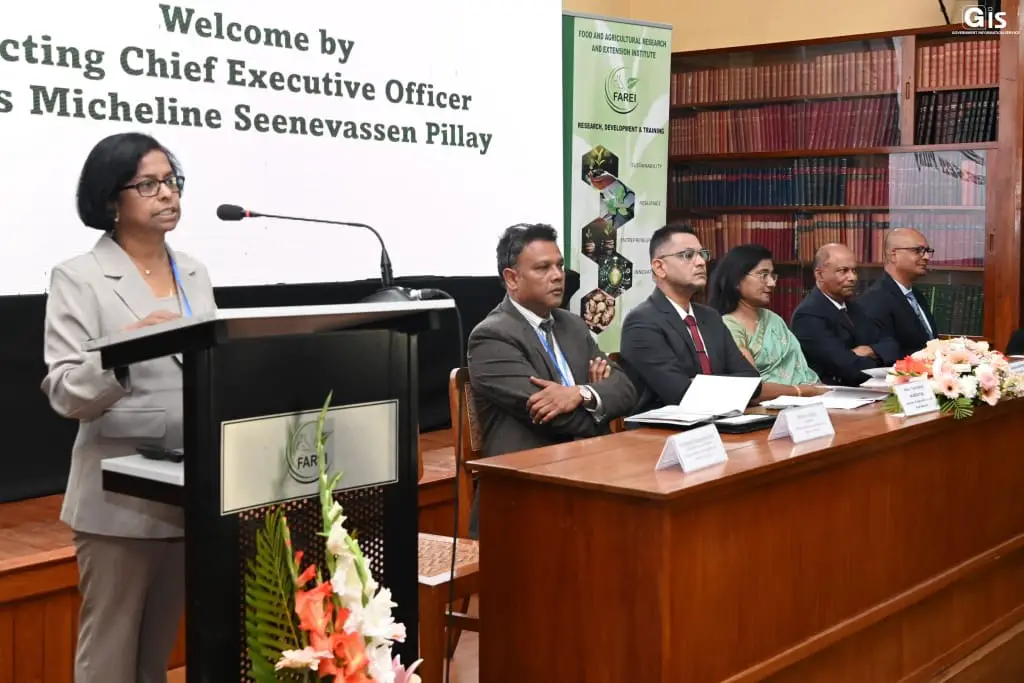 Fostering Resilience in Agri-food Systems Through Research and Innovation
The Minister emphasized the difficulties the agri-food systems were facing and the importance of finding solutions. Also, he emphasized that the focus of ASEF would be on how research and innovation are essential for enhancing the resilience of agri-food systems. Moreover, to maintain the sustainability, productivity, and flexibility of agri-food systems, he added, "it has become increasingly imperative to harness the potential of science and innovation in a rapidly evolving world and in the face of climate change, resource constraints, and shifting customer demands."
Utilizing Technology and Research for Sustainable Agrifood Systems
Investing in research and development, along with cutting-edge technologies like AI, is essential to addressing the industry's challenges and maximizing resources. This approach also helps satisfy changing consumer preferences while reducing the impact of climate change by creating crops that are climate resilient.He also emphasized that it is also crucial for creating sustainable agricultural methods. Therefore optimizing resource use, lessen environmental impact, and increase the resilience of agrifood systems.
Focusing on cutting-edge technology, he suggested that a data-driven strategy may assist growers in making informed choices regarding irrigation, fertilization, and pest management. This approach can lead to higher productivity and less resource waste.
Collaborative Initiatives at Agricultural Science Exchange Forum
The Minister expressed hope that ongoing innovation may create a resilient, effective, and adaptive food system. Furthermore, these efforts can ensure food security for everyone despite present and future obstacles.
On his part, Professor Bahorun provided an outline of the main responsibilities and the MRIC's roadmap. He emphasized the need for adopting a circular green economy, innovating current incentives, and collaborating with the private sector to promote new possibilities and advancements in agriculture.
The Forum is a project led by FAREI, aiming to establish a dynamic forum for researchers, agricultural extension professionals, practitioners, and industry specialists. Its objective is to facilitate vigorous discussions and share inventive concepts. In addition to nurture partnerships that will influence the future of agrifood systems.