Government Encourage of BOOSTING BIO VANILLA CULTIVATION IN MAURITIUS
A recent site visit in Saint Julien d'Hotman, Mauritius, led by the Vice-Prime Minister (VPM) and Minister of Education, Tertiary Education, Science and Technology, Mrs. Leela Devi Dookun-Luchoomun, along with the Minister of Industrial Development, SMEs, and Cooperatives, Mr. Soomilduth Bholah, showcased the organic vanilla farming initiatives of the Plantation Vanille Multipurpose Cooperative Society Ltd. Also in attendance were Mr. Selva Dassen Chinan, the owner of Le Jardin de la Vanille et L'Epice, his team, and other dignitaries who elucidated the various steps involved in producing organic vanilla, cocoa, and edible flowers.
During the visit, VPM Dookun-Luchoomun commended the Plantation Vanille Cooperative for their commitment to organic vanilla farming, acknowledging its labor-intensive nature. She encouraged Mr. Chinan to explore potential collaboration with the University of Mauritius to improve vanilla productivity and stressed the importance of enhancing the business's visibility for increased profits and community benefits.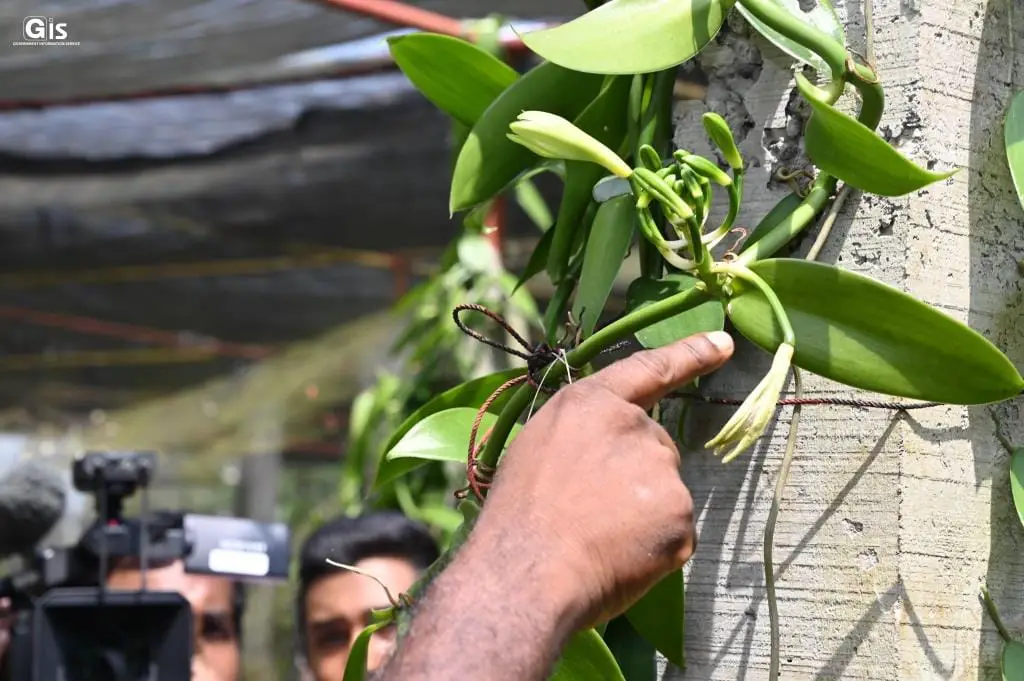 Minister Bholah and Mr. Chinan's Insights on Vanilla Cultivation and Beyond
Minister Bholah, in his remarks, recalled the historical involvement of vanilla planters in Mauritius. However, he lamented the decline in the number of vanilla producers over time due to the high maintenance and the lengthy four-year production cycle. He expressed his appreciation for the dedication and patience demonstrated by the Plantation Vanille Multipurpose Cooperative Society Ltd in vanilla cultivation. Notably, Mr. Chinan has carried on his father's legacy in the vanilla plantation business and currently employs a full-time staff of twelve. Minister Bholah highlighted the various opportunities and incentives provided by his Ministry to support such extraordinary businesses and urged cooperatives to engage in similar ventures.
Mr. Chinan emphasized the need for meticulous expertise at every stage of production and the commitment to organic farming principles, including the avoidance of chemicals and fertilizers. He revealed that his team manually pollinates orchids, which eventually yield vanilla pods. However, he also pointed out that vanilla production alone is not a highly profitable venture, necessitating diversification. In addition to vanilla cultivation, his business involves the sale of handicrafts crafted by Mauritian artisans and the cultivation of various spices, tropical plants, and edible flowers, which are distributed to local stores and hotels.
The site visit concluded with a tasting session of freshly squeezed citrus sugarcane juice, showcasing the diversity and creativity of this organic farming endeavor.