Apples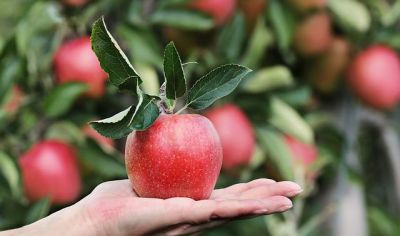 Apple is one of the fleshy fruit. It is the ideal fruit to eat at any time, anywhere. Their skin may be red, green, yellow and the meat taste ranges from a bitter to a sweet flavor. When harvested, apples are usually roundish, 5-10 cm (2-4 inches) in diameter. They vary in size, shape, color depending on the variety. In addition, apples supply a great amount of vitamins and nutrients which therefore result in numerous benefits for health.
Its Health Benefits:
It may lower high cholesterol and blood pressure.
They are rich in fiber and antioxidants.
Result to lower risk of diabetes; apples are Diabetes-Friendly fruits.
Help to prevent severe diseases such as heart disease and cancer.
Fight asthma.
Promote weight loss.
There can be improvement in brain health.
Aids in digestion.
It is a low-calorie snack, high in both soluble and insoluble fiber.
The NUTRITION FACTS
Calories: 52
Water: 86%
Protein: 0.3 grams
Sugar: 10.4 grams
Fiber: 2.4 grams
Carbs: 13.8 grams
Fat: 0.2 grams
Ways to store:
Keep them at room temperature, whole apples stay fresh for about a week.
Keep them away from sunlight, keep them in a cool and dark place.
The refrigerator is a good option to make them last long.
Store them in the crisper drawer in a plastic bag with holes in it.
In order to keep them fresh, cover them with a damp paper towel.
Different Recipes
What can you do with lots of apples?
Dry them.  Dried apples along with other dried fruit is a snacking favorite.
Puree them. It can be used in a variety of ways such as apple crumbles, apple pies, etc.
Pickle them
Juice them. For example: juice, smoothies and cocktails
Bake them. For example: home made apple cake